Simon Kurt Unsworth
"A Country Death" (2011)
Included in: Gaslight Arcanum (J.R. Campbell & Charles Prepolec)
Story Type: Homage
Canonical Characters: Sherlock Holmes; Holmes's Housekeeper (Mrs Roundhay); (Dr Watson)
Other Characters: Inspector W. M. Brabbins; Constable Swann; Morgue Attendants; Rivers; (Bernadette Murray)
Date: During the First World War
Locations: Sussex; Holmes's Cottage; Morgue
Story: Brabbins is summoned to investigate the death of Holmes. His body has been found in his study, swollen and covered in small black marks, by his housekeeper, Mrs Roundhay. After attending the autopsy on the body, he returns to the cottage to find that another death has occurred, that of the local constable who appears to have found something of interest in Holmes's papers. Under siege in the cottage, Brabbins reads Holmes's notes on the experiment he has been carrying out.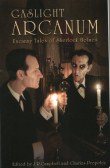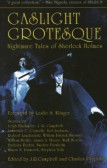 "The Hand-Delivered Letter" (2009)
Included in: Gaslight Grotesque (J.R. Campbell & Charles Prepolec)
Story Type: Supernatural Pastiche narrated by Moriarty
Canonical Characters: Professor Moriarty; Dr. Watson; (Sherlock Holmes; Mrs Hudson)
Other Characters: Farmer; Farmer's Wife; Scientist; Wharfman; Moriarty's Men; (Scientists)
Date: May, 1891 - ?
Locations: Switzerland; Reichenbach Falls; Farm; Scientist's Garret; Warehouse Laboratory; Watson's House
Story: In a letter to Holmes, Moriarty describes how he survived Reichenbach, and travelled, gleaning information from the scientists he visited, until he discovers the secret of reanimating the dead. He tells Holmes of Watson's fate, and what he has in store for Holmes and the other occupants of 221B.
David Upton
The Lost Holmes (2003)
Story Type: Pastiche
Canonical Characters: Sherlock Holmes; Dr. Watson; Mrs. Hudson; Inspector Lestrade
Other Characters: Sir Brandon Ashforth; Cabman; Mrs. Painter; Swindon Station Crowds; Ogbourn Porter; Marlborough Station-master; Marlborough Passengers; Sumner; Fenton Ashforth; Ellen Ashforth; Joseph Ashforth; Joshua Ternan; Castle & Ball Landlord; Henry Blofield; Elizabeth Maitland; Sellars; Adams; Vicar; ; Villagers; Grave-diggers; Jack; Inspector Bentley; (Ettie Ashforth; Kingsley Dawes; Christina Ashforth; Sir Brandon's Sister; John Dawes; Train Passengers; Cab Driver; Marlborough Police Officer; Mr. Jenkinson; Ashforth's Boy; Mr. Free; The Rt. Hon. Hugo Charteris; Ashforth's Cook; Sir Brandon's Doctor; Footpad)
Date: The first week of November, 1895
Locations: 221B, Baker Street; Fulham; John Dawes' Rooms; Paddington Station; Trains; Swindon Station; Chiseldon Station; Ogbourn Station; Marlborough Station; Oakwood Halt; The Mere, Oakwood, Wiltshire; Marlborough Police Station; The Castle and Ball Hotel; Blofield's Butchers Shop; St. Botolph's Church, Oakwood; Sellars' Cottage; Savernake Forest; Free's Shop; Marlborough High Street; Elllen Ashforth's Carriage; (A Train; Burdrop Park; Kirkwhelpington, Northumberland)
Story: Sir Brandon consults Holmes: He believes that he is going to be murdered by John Dawe, a man whom he has forbidden from marrying his daughter, Ellen because he is the son of the man who seduced his first wife, Ettie. A scarab has been stolen from his private museum, and a poem left in its place, and he has been shot at in his library. Two days later, Watson reads that Ashforth has been murdered on the 9.55 from Swindon to Marlborough, and Lestrade is in charge of the investigation. Holmes interviews Dawes's landlady and examines his rooms which have twice been broken into. They travel, on the train taken by Sir Brandon, to his home in Wiltshire to interview his family. He learns that Sir Brandon's pride in his appearance had declined rapidly three years previously, but that Dawe is unusually fastidious over his, and that all the family, the butler, and Ternan, a fellow collector of antiquities had motive and opportunity for the murder. Holmes quickly reaches a conclusion regarding the murderer, but must set about finding proof.
Dawe is arrested by Lestrade, but by the time he is released appears to be suffering from some form of insanity, and after his return to the Ashforth's house he is found dead. Holmes himself is attacked, and another death takes place in the house. A trip to Northumberland, and Watson's interview with a furniture dealer and observation of another kind of deal lead to a solution to the crime, but further events include another attack and the discovery of a blood-stained dress. Holmes gathers the principals together, and they listen to Lestrade's theories before the murderer is revealed.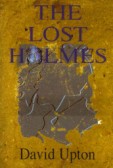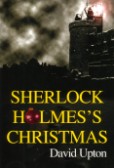 Sherlock Holmes's Christmas (2005)
Story Type: Pastiche
Canonical Characters: Sherlock Holmes; Dr. Watson; Colonel James Moriarty; Inspector Lestrade; Professor Moriarty; (Mrs Hudson; John Clay; Colonel Moran; Swiss Boy; Parker; Von Herder; Ronald Adair)
Other Characters: Major Reculver Yates; Porson; Henry St John Bosco; Randal Norton; Carolyn Norton; Celia Montague; Grafton Montague; Waiting-Maid; William Clunies-Ross; Rosalind Clunies-Ross; Heatherdene's Butler; Sir Seton Heatherdene; Edward Urie; Sam Parkin; Theodore Bargus; Crown & Cushion Waitress; Chestnut Vendor; Skaters; Windsor Guard; St George's Choir; Maid; Yates's Cook; Carol-Singers; Police Doctor; Police Officers; Children; Townsfolk; Priest; Inspector Atkins; Common Loafer; Police Officers; Israel 'Porky' Sless - The Camden Ripper; (John Ayto; Constable; Lady Heatherdene; Montague's Father)
Date: 20th - 29th, 1894
Locations: 221B, Baker Street; A Train; Slough Station; Eton; Pocock's Lane; Tilstone Court; Jourdelays; Eton High Street; The Crown & Cushion; Windsor; Windsor Castle; The Horseshoe Cloister; The Curfew Tower; St George's Chapel; Police Station
Story: Holmes is consulted by Major Yates whose secretary, Ayto, has been murdered. He is concerned that Lestrade will arrest an innocent man, his paying house-guest, Norton, for the murder. Lestrade had received a telegram from the murdered man saying that he had information regarding a number of unsolved crimes. A perusal of Yates's entry in Holmes's index yields some very familiar details. He and Watson travel to Yates's home in Eton, where after questioning the guests and staff, Watson thinks he recognises a figure he sees in the dark. Later an attack is made upon Holmes, and much strange behaviour on the part of Yates, his guests and staff is observed before another murder takes place. On Christmas Eve the "ghost" of Moriarty appears at a window of the house and Holmes comes to the realisation that one of his minions is among the members of the household. Eventually discovering Moriarty's hiding place, Holmes uses an old trick to ascertain if he is still using it. Meanwhile more evidence builds up against Norton, and another murder occurs, this time in a locked room. Holmes departs for London, but promises to unveil the murderer the following evening and gathers together all those involved in order to do so. A surprise guest reveals the truth about Reichenbach.